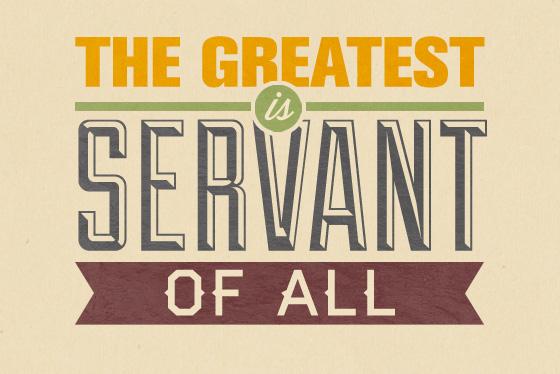 Servant Followers
Life is full of apparent contradictions. Anyone ever eaten Jumbo shrimp? Or put on a pair of tight slacks? Or get a head-butt to the face? Or listen to soft rock? Or been considered pretty ugly? The list goes on and on.
The Christian life is also full of seemingly contradictory paradoxes:
We need to lose our life in order to find it (Matthew 10:39)

The first shall be last (Matthew 20:16)

We worship a God who is 3 in 1 (2 Corinthians 13:14)

The poor in spirit are really the rich (Matthew 5:3; James 2:5)

We become a fool to become wise (1 Corinthians 3:18)

The humble will be exalted (Luke 14:11)

Of course the greatest living paradox of all, God coming in the flesh uniquely as/in/through the human being, Jesus Christ.
In the book of Luke, Jesus offers another profound paradox that shakes, rattles and rolls our traditional notions of power and greatness and teaches us a powerful lesson of what it means to be servant followers.
Before we jump in our main passages for today which are found in Luke 22:24-27, let's get clued in with what has been going on just prior to our main texts.
Jesus is with his disciples and they are together for their last Passover meal together, otherwise known as the Last Supper. Jesus had just got done talking about the fact that his destiny is to suffer and talked about the bread and the wine, the cup of the new covenant. He then takes a dramatic shift and tells his disciples that someone is going to betray him and that person is sitting, or rather reclining, at the table with him. You could of probably heard a pin drop. The disciples hearts probably sank and they began to do what men do best. In v.23 They began to Problem solve.
They tried to figure out who is the betrayer among them. They wanted to solve this conundrum. So they begin to question among themselves who it could be. Peter is probably questioning John. Saying, "Is it you." John is probably questioning Peter, "Is it you." Judas is whistling in the background pretending he hasn't a clue.
And all of the sudden, as we jump into our main text today, it says in Luke 22:24 that "a dispute arose among them as to which of them was considered to be greatest."
So let me get this straight, Jesus is pouring out his heart, talking about his impending suffering and the fact that one of his treasured disciples whom he has spent the last three years with intimately getting to know is going to betray him. And they start arguing with each other about is was the greatest. Talk about a room of self-centered narcissists.
Now it doesn't say this but I bet they were doing what most of us do when a barrage of accusations hit us. We begin to defend ourselves. Our shame gets triggered, we defend ourselves and remind the person of how great we are. As the disciples were defending themselves and arguing about who was the greatest they were probably at the same time reminding each other how the other person was not so great. That is just the way it probably went down. There had to of been some kind of comparison going on.
I can imagine some of them pridefully saying:
"Well, I pray more than you, that is why I am the greatest"

Another disciple boasting: "Well, I remember Jesus' stories word for word. Unlike you"

"And you great, yeah right, you like to drink a little bit too much of that wine when no one is looking"
Accusations and insults were probably flying, triggering everyone's shame, which caused everyone to defend themselves and try to prove how great they were to make themselves feel better. I know that is what I do on occasion. My wife could be telling me something that I did or said to hurt her, it triggers my shame and I start defending myself by telling her all the great and amazing things I have done. "What do you mean I am insensitive. I am the greatest husband ever. I took out the garbage, washed the dishes and ate the leftover dried out sushi in the fridge. Doesn't that show you how great I am and how much I love you?" All the while the very hurt which she originally brought up has been dismissed and forgotten about. Much like what happened with Jesus' sharing about the betrayal with his disciples.
Jesus sees and hears what is going on with the disciples and like a good Rabbi and teacher he starts to teach them an invaluable and profound lesson that is our lesson as well. Jesus teaches them about two different mindsets in regards to greatness:
A worldly mindset and a Godly mindset.
Jesus starts off by saying, "The kings of the Gentiles lord it over them; and those who exercise authority over them call themselves Benefactors. But you are not to be like that. Instead, the greatest among you should be like the youngest, and the one who rules like the one who serves" (verses 22:25-26).
The worldly mindset, as symbolized by the Gentile Kings, believes greatness is achieved by v.25 "lording it over the people".
The Gentile Kings represents a Worldly Greatness: Punishing Power, strength, might, a heavy hand, abuse, marginalization, oppression, torture, those are the world's definition of greatness, again as symbolized by the Gentile Kings. This mindset is demonstrated by those who think they are superior, who think they are better than, who because of their position demand and expect others to submit and honor them. That is the mentality and mindset Jesus is talking about. They have a top-down attitude where everyone else is perceived as down-under them.
Jesus also said, "those who exercise authority over them call themselves Benefactors" another worldly mindset and attitude to be aware of.
The Disciples at that time understood Benefactor to be a cultural title commonly reserved for powerful men who contributed greatly to society. The benefactors of Rome did do amazing things for the community. They would build gymnasiums, build theatres, restore buildings, give the residents food and clothing but there was a hidden motivation and an expected payoff. The Benefactors typically received a statue in their honor with long inscriptions declaring their greatness and splendor. They had public celebrations in their honor where sometimes the residents would chant and sing their praise. They would get the best seats in all public events. They were the elite. They relished in all of their rewards and expected the best treatment wherever they went.
In our culture we don't have Kings but we do have benefactors, although slightly different than those in the Roman culture. But perhaps someone like Mariah Carey, is an example of a modern day Benefactor who occasionally models the very mindset Jesus is warning the disciples of. Now I confess, I have enjoyed some of her music throughout the years and I am not trying to demonize her. But she is a perfect example of having a benefactor mentality.
As a benefactor, Mariah has done great things. She was the recipient of the Congressional Horizon Award for her humanitarian work for helping disadvantaged children through her "Camp Mariah". She has given money to Cancer research, has supported PETA, helped out AIDS foundations and many other things she has done as a Benefactor.
But listen to a few of the diva demands Mariah Carey, a person who many probably worship in the same way those in Jesus day worshipped the Roman benefactors, made at a special event in London in some years back. She demanded:
20 white kittens to surround her while they turned on the lights to introduce her

100 white doves to be released during the celebrations

80 security guards to protect the singer during the event

Pink confetti in the shape of butterflies – (her favorite insect and the name of one of her albums)

One mint conditioned Rolls-Royce to drive her through the shopping center

One pink carpet for her to walk down as she makes her way to the podium

Demanding that 15 members of her personal entourage be adequately taken care of.
Granted it is hard to tell if that was just entertainment or entitlement. If it was out of pure entitlement, I bet Jesus would see that demonstration of grandiosity and say v.26, "You are not to be like that." You are not to adopt the wordly mindsets of, the Gentile Kings and the Grand Benefactors". You are not to adopt a worldly, power hungry, better than attitude, and entitlement mentality.
You are to adopt a Godly Mindset, a Kingdom mindset and put on the Mind of Christ.
Jesus says to them in Luke 22:26, "Instead (of the prideful, snobbish and elite Kings and Benefactors), the greatest among you should be like the youngest, and the one who rules like the one who serves."
Now what Jesus is saying to them is completely countercultural. It is another one of his powerful paradox's that twists and turns conventional cultural and worldly wisdom. Because in their culture: status, age and position was everything. It was all about a strict hierarchy. Back then, it was the rulers and the ruled. The masters over the servants. The old, wiser and esteemed over the younger, immature, looked down upon and naive.
Jesus points out the conventional wisdom at the time. He goes on to say in Luke 22:27, "For who is greater, the one who is at the table or the one who serves? Is it not the one who is at the table?For the disciples this question was a no-brainer. The greatest is the one who is at the table, not the servant. The greatest was the one who was not lifting a finger, relaxing waiting to be served not the one who was getting his or her hands dirty and doing the serving. They grew up with this understanding of greatness since they were little kids. Their parents taught them about it, society taught them about it. This notion of greatness, hierarchy, serving and submission was ingrained in them. There were strict rules and norms that everyone should follow or shame would be brought to themselves and their families.
But for Jesus the principles and mindsets of the Kingdom of God will always take precedence over human made rules, norms and regulations. Jesus emphasized to his disciples a humble attitude and a Kingdom mindset, which I suggest to you, went something like this:
The greatest in God's eyes are the one's, who in love, humbly serve one another as opposed to those who pridefully and arrogantly demand to be served because of their position, age, rank or status.
Certainly rank, status and position they can be good things. I mean, I live on a military base. They are needed for structure, accountability and proper functioning of groups and organizations. But what Jesus is really getting at, is the heart and mindset behind those in position, authority, leadership.
Here is a great example:
During the Revolutionary War, a man in civilian clothes rode past a group of soldiers trying to repair a defense barrier. Their leader was shouting commands at the men who were struggling to do the job. The man on horseback stopped and asked the leader why he wasn't helping his men. The man barked back, "Sir, I am a corporal!" The stranger apologized, then dismounted his horse and proceeded to serve and help the men fix the barrier. As he was about to ride off, he said to the corporal, "Next time you have job like this, and not enough men to do it, go to your commander-in-chief, and I will serve you again." The stranger was George Washington, and the corporal was, well, embarrassed. George Washington had a Kingdom mindset. The corporal had a worldly one.
Of course Jesus himself had a Kingdom mindset, He goes on to say at the end of V.27,
But I am among you as one who serves
Jesus doesn't just leave it there, as the master teacher that he is, he doesn't just tell them, he shows them what greatness in God's eyes looks like. Although Luke doesn't write about it, we have to turn to the same story found in the book of John to put the rest of pieces together to see what Jesus does next.
This is why it is so important to read the Bible vertically (looking at the story in all the gospels at the same time) and not just horizontally (finish one book of the bible, then going to the next, then going to the next etc) when it comes to the gospels. In other words, it is important to look at the same story in all the Gospels to get a complete picture of what happened. So we turn to the same story found in John 13:3-5 where he adds a piece of the puzzle:
Washing the Feet of the Disciples
John says, "Jesus knew that the Father had put all things under his power, and that he had come from God and was returning to God; so he got up from the meal, took off his outer clothing, and wrapped a towel around his waist. After that, he poured water into a basin and began to wash his disciples' feet, drying them with the towel that was wrapped around him."
The story of Jesus washing the disciples feet, as an example of true greatness and the humility and life of service we should follow as his disciples, is absurd. Absurd is defined in the dictionary as something that is "wildly unreasonable, illogical or inappropriate". The perfect and Holy God, creator of the universe, came down from heaven, enrobed and intertwined Himself with flesh as Jesus Christ, and is washing the crusty, smelly feet of sinful, dirty men including the rash, impulsive Peter and Judas, the man who would betray him a day later.
Not only is it absurd from that perspective but also from a cultural perspective. What Jesus did as a Rabbi and the Host of this meal was unthinkable. In the Jewish culture it was typically the poor Gentile slave who stooped down that low and washed the feet of the host and guests. Washing everyone's feet was the job for a slave. Jesus was doing what only a slave would do to give us a profound living example of of what a life of service and sacrifice looks like.
I am so moved, touched and convicted when I think about what Jesus did. What a teacher, what an example!
For me, that is like imagining going to eat at TGI Friday's. Your all ready to order. As you put the menu down your kid tries to quickly grab it, when she does she knocks the ketchup on the floor, splat, ketchup goes everywhere and along comes Barack Obama, the President of the United States, dressed in a waiter's garb ready to clean up the mess, serve you and take your order. That is absurd. That is wildly unreasonable, illogical and inappropriate. He is the President of the United States.
As we reflect back on Jesus' washing the feet of the disciples we should keep in mind that Jesus is the Logos, the God of the Universe and the King of the World. And for him, what is unreasonable to the world's mindset is normal, logical and appropriate for those who possess a Godly or kingdom mindset.
The night before Jesus' was going to die, Jesus told, or rather showed, his disciples what was of the utmost importance. Isn't that what anyone would do if they knew they were going to die. They would share their heart and what matters most with those they dearly love. And Jesus did just that. Jesus could of emphasized their need to understand deep theology, and delved into the mysteries of the Trinity, the nuances of pneumatology or the secrets of the end times. But Jesus emphasized and prioritized to his disciples how to how to become "sacrificial servant followers".
Unfortunately, I don't think that "Christians as servants" is the picture or image we have burnt into the hearts of people in the wider culture, especially if you look at the portrayal of Christians in movies and television. But thank God that we can change that.
Phil. 2:4-8 Each of you should look not only to your own interests, but also to the interests of others. Your attitude should be the same as that of Christ Jesus: Who, being in very nature God, did not consider equality with God something to be grasped, but made himself nothing, taking the very nature of a servant, being made in human likeness. And being found in appearance as a man, he humbled himself and became obedient to death — even death on a cross
May we, through the Spirit and Grace of God:
Repent of our pride, arrogance, our Kingly and Benefactor mentalities, holier than thou attitudes, our worldly mindsets, and hierarchical hubris. May we ask God to burn away attitudes of entitlement, feeling like we have paid our dues in life already and no longer need to serve wholeheartedly whether to God, those closest to us and those we encounter on a daily basis.
May we pursue paradoxical greatness. Greatness God's way.
May older siblings go out their way to serve younger siblings. May husbands humbly and sacrificially serve their wives and wives respectfully and faithfully serve their husbands. May we serve the least of these, the most of these and everyone that crosses our path.
May we all become lifers. Radical servant followers who choose to serve others and not swerve others, following the example of our Savior to the day we breathe our last breathe and hear God lovingly say, "Well, done, good and faithful servants"