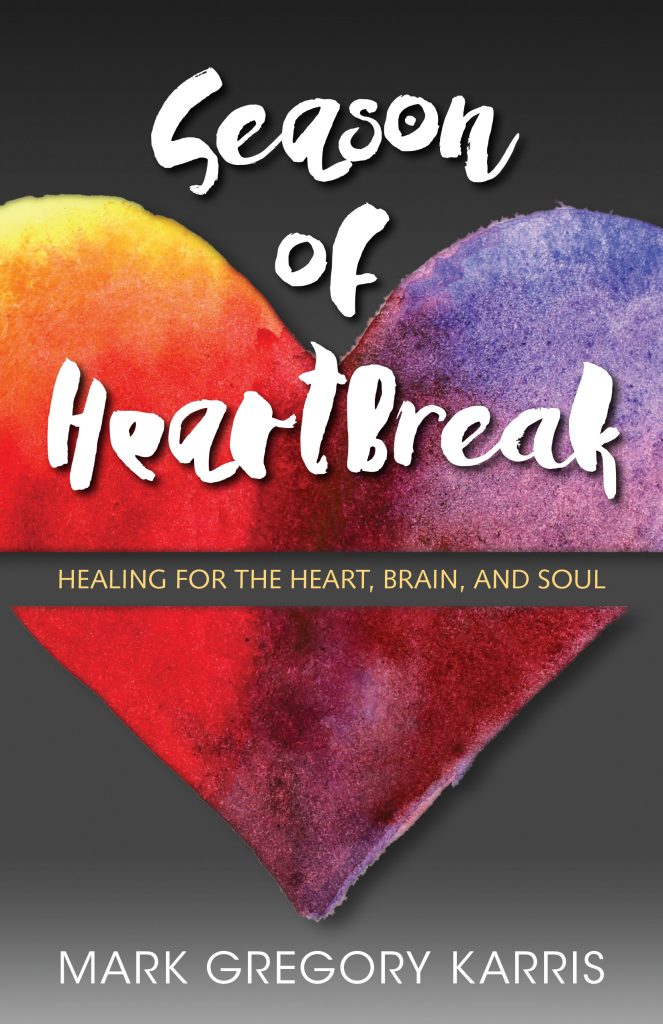 My book is coming out June 27th, 2017.
You can preorder here: Season of Heartbreak
Join the Facebook Page: fb.me/SeasonofHeartbreak
Endorsements
Love
"This resource is practical and insightful and offers hope to those who are often forgotten with a painful loss. This is a much-needed book and will touch the lives of many."—H. Norman Wright, grief and trauma therapist, and author of ninety books 
Love
"Heartbreak. Loss. Grief. Healing. Mark Karris is simply masterful in Season of Heartbreak." —Tim Clinton, president of the American Association of Christian Counselors
"Mark Karris's Season of Heartbreak integrates the best of pastoral wisdom and clinical insights to craft a powerful and timely resource for those whose hearts ache after a painful breakup."—Archibald D. Hart, author of thirty-three books, and dean emeritus and senior professor of psychology, Fuller Theological Seminary
Love

"Mark Karris has been through the painful terrain of heartbreak and helped many others through it. Beautifully weaving together biblical truths and contemporary science, Season of Heartbreak will help you make sense of your experience and guide you through hands-on practices for moving through heartbreak to hope and healing."—Todd W. Hall, coauthor of Psychology in the Spirit, professor of psychology and director of the Institute for Research on Psychology and Spirituality, Biola University
"Integrating faith, clinical research, and helpful tools, Karris provides the compassion, hope, and grace that you need to mend your broken heart."—Kim Fredrickson, licensed marriage and family therapist, and author of Give Yourself a Break: Turning Your Inner Critic into a Compassionate Friend
"A superb resource filled with real-life examples, deep insights, masterful metaphors, powerful practices, and contemporary research that will absolutely benefit you."—Susan Mead, author of Dance with Jesus: From Grief to Grace
"Season of Heartbreak is a much-needed travel companion for those of us seeking comfort and sanity after our heart has been broken in circumstances beyond our control. . . . Mark reminds us that a broken heart is meant to be tended to, that we were created to love and be loved, and that this wild, messy journey of human relationships is one of the greatest ways God leads us home."—Beth Allen Slevcove, spiritual director and author of Broken Hallelujahs: Learning to Grieve the Big and Small Losses of Life
"Mark helps us learn to walk through grief so we can be, even in the pain, fully alive."—Joshua Straub, cofounder and president of The Connextion Group, coauthor of God Attachment, and author of Safe House
"When loss comes to a heart, it is wise to seek counsel from trustworthy sources. Mark's prolific insights and suggestions offer wisdom and healing for the personal quest for relief and hope." —Chris Ann Waters, speaker and author of Seasons of Goodbye: Working Your Way Through Loss
"In this book, Mark thoughtfully, purposefully, and vulnerably uses his unique perspective to help all of us take steps forward toward a deeper life of hope and freedom."—Shawn Kennedy, pastor and author of Kingdom Come: A Gospel-Centered Guide to Discipleship
"Season of Heartbreak gently guides you through the darkness of grief and suffering while providing a step-by-step road map to health. With solid biblical underpinnings and supportive therapeutic research, Mark Karris's insights are well worth your investment. You'll come to know healing from the true Master of relationships: Jesus Christ." —Donald W. Welch, PhD, LMFT, president, founder, and CEO of Enriching Relationships, Inc.
"I strongly recommend the passion, truth, and healing power of Jesus that flows through Season of Heartbreak. This book will expand the kingdom of God in your life."—Ronald Walborn, dean of Alliance Theological Seminary and creator of the Personal Spiritual Formation DVD curriculum, 180 Media Group
"From his experience as a therapist and pastor, Mark Karris has written a marvelous book that offers hope for the brokenhearted. This is a must-read for anyone who has ever fallen in love only to have had their heart broken."—James P. Danaher, professor of philosophy, and author of Contemplative Prayer: A Theology for the Twenty-First Century and Jesus' Copernican Revolution
"Experiencing loss is one of life's inevitable realities. . . . Mark Karris shows us a way forward that offers the kind of healing we all long for."—Rich Villodas, lead pastor of New Life Fellowship Church
"Mark Karris, with a wonderfully pastoral heart and keen clinical mind, has written a heartfelt book that encapsulates both sound theology and cutting-edge psychology in a rich and practical way. Season of Heartbreak is destined to help countless heartbroken Christians grieve well."—Kathryn de Bruin, CEO of Kathryn de Bruin Family Therapy and Training, and certified emotionally focused therapy trainer and supervisor
"With a compassionate tone and pastoral heart, Mark walks us through what can be expected in seasons of grief, and how to process these powerful emotions so that the outcome is a stronger heart and more insightful life. Many Christians struggling with the derailing pain of loss will find this a helpful guide on their dark path."—Marc Alan Schelske, pastor and author of The Wisdom of Your Heart: Discovering the God-Given Purpose and Power of Your Emotions, www.MarcAlanSchelske.com