A Shout Out From Actor Chandler Riggs from the TV show The Walking Dead! 
Questioning our faith and spiritual beliefs, while leaving the familiarity of our religious homeland, can be excruciatingly painful. Loneliness, isolation, and fear of rejection—from God and others—can give rise to shame, guilt, anger, and sadness. Yet, paradoxically, this uncomfortable process can be a powerful catalyst that leads to tremendous emotional, mental, and spiritual growth.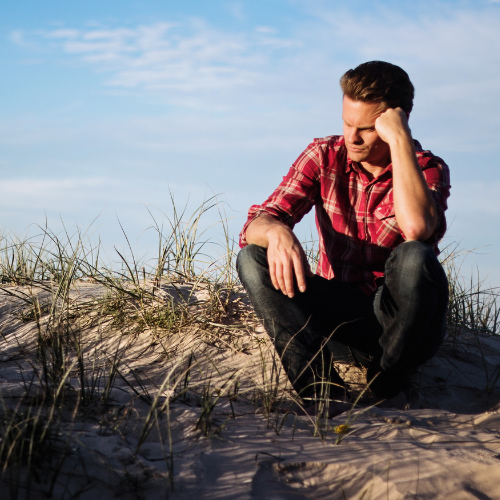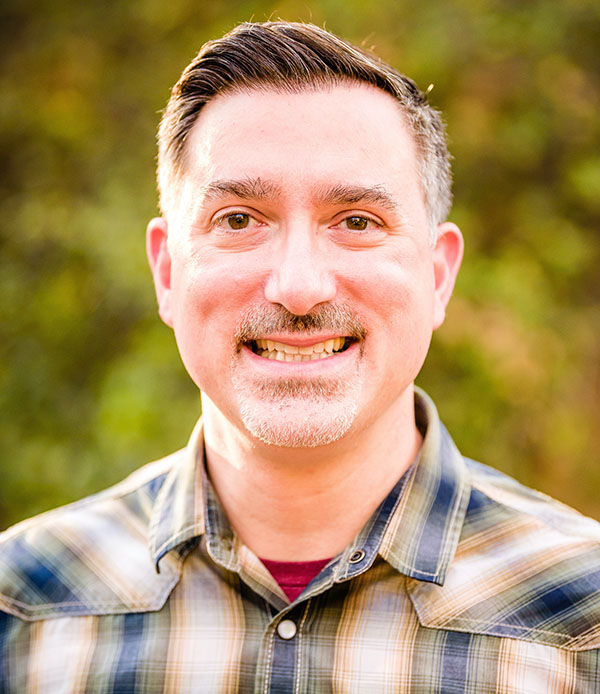 Therapist and theologian, Mark Karris, is no stranger to the deconstruction/reconstruction process. In the best-selling book, Religious Refugees, he explores this disorienting faith-shift through the lens of cutting-edge psychological research, theology, philosophy, and, most importantly, the real-world experiences of those who are going through—and have gone through—this arduous and confusing journey. You don't have to walk this path alone. Join the legion of others on the road to healing and self-discovery and let this book be your guide!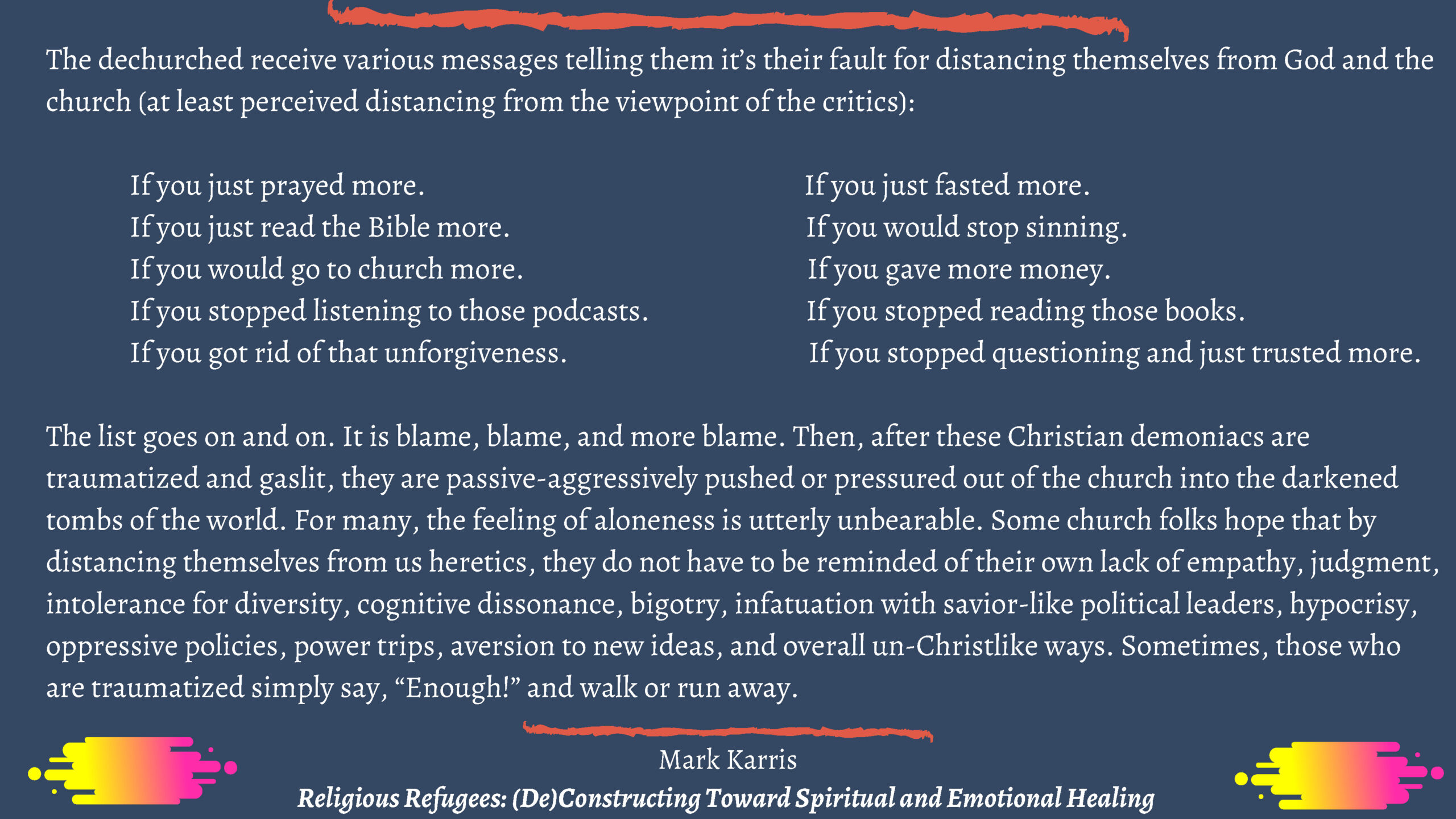 Here are some evidence-based reasons why some are leaving the institutional church.
"Austrian theologian Frederick von Hugel (1852-1925) compared the church as an organization to the bark on a tree. Bark is dead wood, but it protects the dynamic life surging within the tree from disease, dehydration, death. Mark Karris has gifted all of us with a valuable resource on how to deal with the crusty bark while tapping into the sap and living off the fruit of the tree."
"If you're in the middle of what Mark Karris calls the D/R Process (deconstruction and reconstruction of your faith), you absolutely need Mark's new book. With the wisdom of a philosopher, the skill of a counselor, the tenderness of a gentle parent, and the accessibility of an old friend, Mark meets you where you are, walks with you, and points to a beautiful way forward, what he (and Mother Teresa) call "the simple path." This is a powerfully helpful book and needed now more than ever!"
"What I love about Religious Refugees is the balanced approached Mark Karris takes toward spiritual recovery by respecting both domains of theology and psychology. Well-studied in each field, Karris professionally and compassionately helps readers make peace with their faith without losing their minds or sacrificing dignity. Whether you're nurturing your own religious journey or guiding someone who is, this book is a must-read!"
"Mark Karris's Religious Refugees is a compelling guidebook for religious refugees seeking the wisdom and tools to move beyond unhealthy views of God and walk this sacred path toward spiritual and emotional maturity."
"With refreshing honestly, unconventional insight, and tender grace, Mark help struggling and former Christians discern a path forward to a more wholistic, fulfilling, and compelling kind of faith in Christ. How I wish I'd had a guide like Religious Refugees when I went through my painful faith crisis as a young person! If you or someone you care about is facing a faith crisis, this is the book you're looking for!"
"In my work as a spiritual director and friend to people experiencing a painful faith deconstruction, I am always grateful for material that helps give language and hope for the messy and beautiful road to greater freedom in our faith. Mark Karris is right–the numbers are legion–and so many are seeking tools and guides to not just survive but thrive. Religious Refugees will help readers not only find themselves in the story but also offers what so many are seeking–tangible and accessible ways forward."
"If you are interested in truly understanding what is going on with Christianity in America today so that you can build something new for yourself or others, then Religious Refugees is for you. With an eye toward productive, reconstructive actions from the beginning, Mark Karris deftly lays out what is so unsatisfying about modern, institutional religious expressions and how they can be re-imagined and rebuilt."
"A person could read five different books on the deconstruction and reconstruction process of leaving religion, or they could read, Religious Refugees: (De)Constructing Toward Spiritual and Emotional Healing by Mark Karris. I consider this book an invaluable and comprehensive resource for any person who is in the process of deconstruction and reconstruction."
"Religious Refugees should be required reading for all spiritual directors, therapists, pastors, indeed all who are walking with others in the deeper journey."
I would love to work with you.
Send me a message by filling out the form below
and I will get back to you shortly.
2635 Camino Del Rio S., #302, San Diego Ca, 92108
Mark@MarkGregoryKarris.com